Exactly what is a Growth Mindset? Carol Dweck shares that
"in a growth mindset, people believe that their most basic abilities can be developed through dedication and hard work—brains and talent are just the starting point. This view creates a love of learning and a resilience that is essential for great accomplishment." Read more about this in her book
Mind Set
.
George Courous writes in his
blog
that the biggest game changer in the future of education is how we think and grow. He states the "game changer" is, and always will be, being open to
new learning
opportunities, doing something with them, and making that human connection to our learners."
This blog represents what I do to maintain growth and ensure I do not stagnate. It's important to constantly evaluate new tools for my classroom and how they will impact my students. Search out sources of personal influence that can help push me out of my comfort zone. I like to keep a collection of random--ok, let me use a trendier word-- "innovative" thoughts or ideas to continually reflect on and implement.
1. My latest tech integration tool has been
Nearpod
. This is a great presentation app that can be used as a live session or a homework session for those looking to flip the classroom. You can upload your presentation into the online platform. Once there you can add different activities (open-ended discussion, quizzes, polls, etc.) that allow teachers to use formative and summative assessments instantly during the presentation. A great way to gain that instant feedback we are all looking for.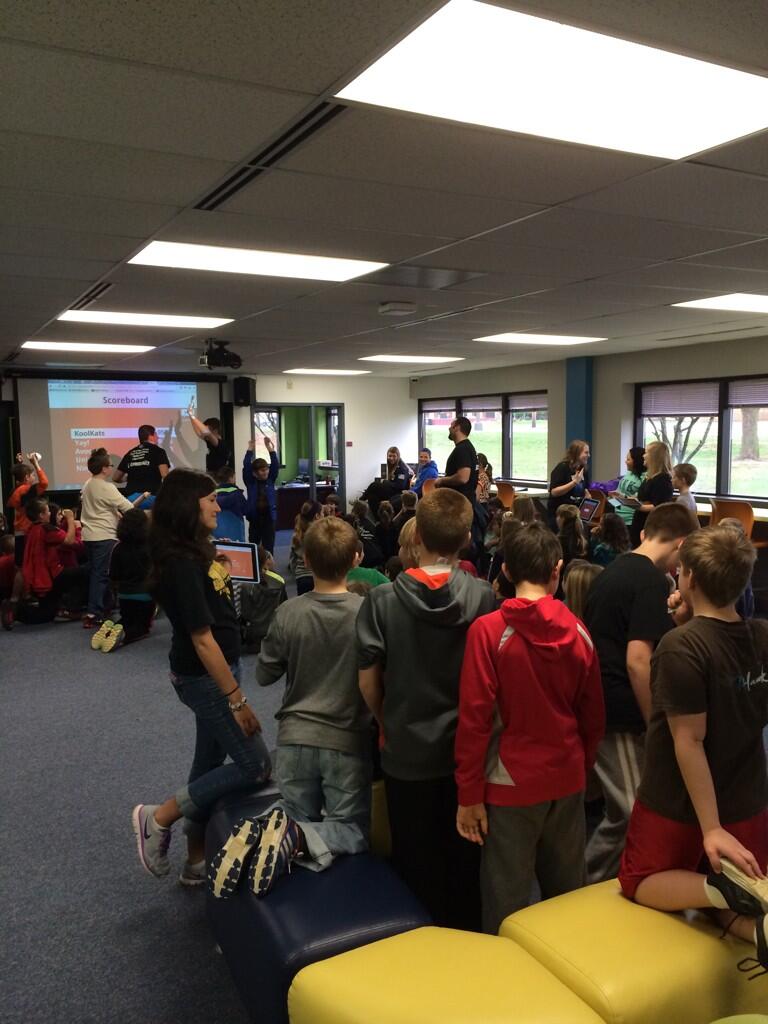 2.
GetKahoot
is a quick and easy web based app to instantly gamify your classroom. Think of the quiz game at local restaurants, this app allows you to turn a boring review session into an instant hit by pairing students against one another to get the most points. We recently used it at our school with a group of 75+ 5th graders who had an absolute blast! A colleague of mine used it to review for his upcoming test and the students were begging for more. Gamification is a big push right now and any time you can turn your lesson into a game it becomes more interesting to the student.
Personal Influences
We all need people who inspire us. Mentors who coach us. Books that make us better. Professional connections that challenge us to grow. I do my best to seek out those who challenge me mentally, physically, and spiritually. Here is a brief and incomplete list of who I turn to:
1. My wife! She constantly pushes me to grow and challenges my way of thinking. With us, opposites truly did attract. I need her point of view when I am facing big decisions. She helps bring a dose reality into my dreaming mind but also encourages me to think outside the box. She hates sappy, so I am sure she will read this and laugh, but I am driven because of the value she adds in my life. A great lesson for any leader, when you add value to others you set them up for success.
2.
John Maxwell
- Maxwell is a world leader on what it takes to grow people. His upbringing through the ranks of small churches to mega churches helped shaped his teachings. My first leadership book was
Thinking For a Change
. It altered the way I was approaching life back in my mid 20's. Maxwell has timeless principles that just about all leaders have heard of or quoted. I am very excited that I get to hear him speak for the first time next week.
3.
Cory Gregory
- If you follow me on Twitter you will notice that almost every morning I use the #upearlytotrain hash tag. This is because of Cory. He is the Co-founder of MusclePharm, a nutritional supplement company. Like any other mid-30's guy (
assuming generalities here people
) I needed to make a change to my physical health. Following Cory on Twitter is like having a personal trainer/ motivator in your pocket. I have had the privilege of working out with him and his 5AM crew at The Old School Gym. My students were fortunate to have him and Jason Daniels (MP Sales Dir.) speak at our school this semester. His story is one of success through failures and a testimony to following your passion. His training regiment is not for the weak minded!
4.
Jon Gordon
- I was introduced to Jon by way of his OneWord philosophy. This simple yet impactful practice helps you set goals for the year based around one word that can transform your life. Mine so happens to be #uncomfortable. Since then, my wife and I have completed almost all of his books and awaiting the release of his latest book
The Carpenter.
Jon focuses on the positive and encourages you to be a difference maker in the lives of others. His book the
Energy Bus
is a simple and creative story that anyone could take and implement its principles into their daily lives.
5.
Eric Thomas
-Not a whole lot to say here, other than you have to check him out. INSPIRING! His story is moving and he is contagiously motivating. I show his TGIM series to my classes consistently and constantly share his messages with others. If you haven't seen his original video about wanting to be successful check it out right here:
Secrets to Success
6. My #PLN. Twitter has become a staple for my personal and professional growth. Here are some of the chats I have joined and the nights they fall on. Warning.....it can become addictive and you get odd looks from your family when you are constantly checking your feeds. Use your time wisely. Something I am struggling with but vow to work on for the sake of my family's sanity. (The links are either to the chat handle or the chat moderator.)
1. Why don't we teach students like we coach sports. We allow the team to watch film to point out mistakes made on the court. We then create a plan to improve performance and ensure a better outcome. Don't punish students with homework or formative assessment. Instead make a plan to work together and get to a projected growth target. Make learning about them and more individualized.
2. Have you shipped your ideas lately? As a staff we completed a book study on Seth Godin's
Linchpin
.
A phenomenal read that pushes you out of your comfort zone. In it he talks about the process of shipping ideas. Ideas that we have been sitting on because of doubt and fear of failure. The question I have is this, what ideas have you been sitting on because of fear or rejection? It's time to ship it and see what happens. Who cares if it is a flop? Take a chance...share it ...reflect on it ...and improve!
3. Recently I was talking to my Professor for an online class. For one of the projects we had to create an online activity for our students. I decided to have my students begin a blog about their experiences during their observations. However, one of the items we needed to submit was a detailed description of our instruction for our students. That is where I had a problem. I purposefully made my instructions vague and I was sharing this with my instructor. Our conversation went like this..."Please explain"...OK.....it's like this, I told the students I wanted them to start blogging about their experiences. Done. "That's all you gave them?" Yep!... I only gave more if they asked for it. Not once did my students ask how they would be graded. I simply told them I wanted to share their thoughts and ideas with staff and through my twitter feed. I gave them an audience bigger than me. I wanted them to practice the art of reflection and make them aware of how important it is to be transparent. Was it uncomfortable for some? You bet. But what they have shared has been amazing. I have had to take a step back and learn from them. Great stuff!
My challenge is this and I would ask that you share your thoughts in the comments section. What are you doing to keep a "Growth Mindset" and how are you encouraging others to Grow?